Every region of France has a different cuisine. Some dishes have become as iconic for Nice as the Promenade des Anglais or the Negresco Hotel.

While cruising the Mediterranean Sea on a Signature Saililng Charter catamaran, be sure to make a stop for lunch or dinner in Nice by sampling the local cuisine. In this article, we'll tell you about the wonderful dishes you must try in Nice!


#1. Socca

Nice's main delicacy is the fragrant and crispy Socca Pancakes. The recipe is simple: chickpea flour and olive oil. The pancake is baked in a huge pan on hot coals. You'll see Socca vendors on any street in Nice.

You can drizzle it with olive oil and sprinkle with Provencal herbs, or put a piece of soft cheese. This is an incredible appetizer, which will serve as a breakfast, a light lunch or a dinner.

Dish costs: only from €3.


#2. Salade Niçoise (Niçoise salad)

The world-famous Niçoise salad has become the calling card of every restaurant in Nice. It combines the best of what is produced and grown in the south of France: fresh vegetables and greens, luxury tuna and anchovies, excellent seasonings and olive oil. Although the recipe has long been a classic, each place cooks it in its own way.

Average price per serving: €12-15.


#3. Pissaladière

Onions are a favorite vegetable of the French, and they know how to cook them. Having doubts? Try the French equivalent of pizza: onion pie Pissaladière. It can be eaten cold as an appetizer or hot as a main course. Either way, onion pie is good: the juicy, spicy filling, seasoned with olive oil and anchovies, perfectly complements the taste of freshly baked dough.

Approximate price: €7.


#4. Farcie

Another traditional dish of Nice is stuffed Farcie vegetables. For the preparation are used tomatoes, eggplant and zucchini. The vegetables are lightly boiled, stuffed with minced meat, lavishly seasoned with garlic and spices, and baked in the oven. Despite its simplicity, stuffing is one of the most delicious and affordable French dishes.

A serving of vegetables will cost about €10-15.


#5. Pan Bagnat (Bagnat Sandwich)

Pan bagnat is a variation of Niçoise salad, which is sure to please tourists. This dish is perfect to eat quickly, nourishing and inexpensive. All the best and most appetizing things in "Niçoise" (eggs, tuna, and vegetables) are tucked into a fresh baguette lightly sprinkled with olive oil. Not a bad substitute for the classic salad, in addition, 2-3 times cheaper.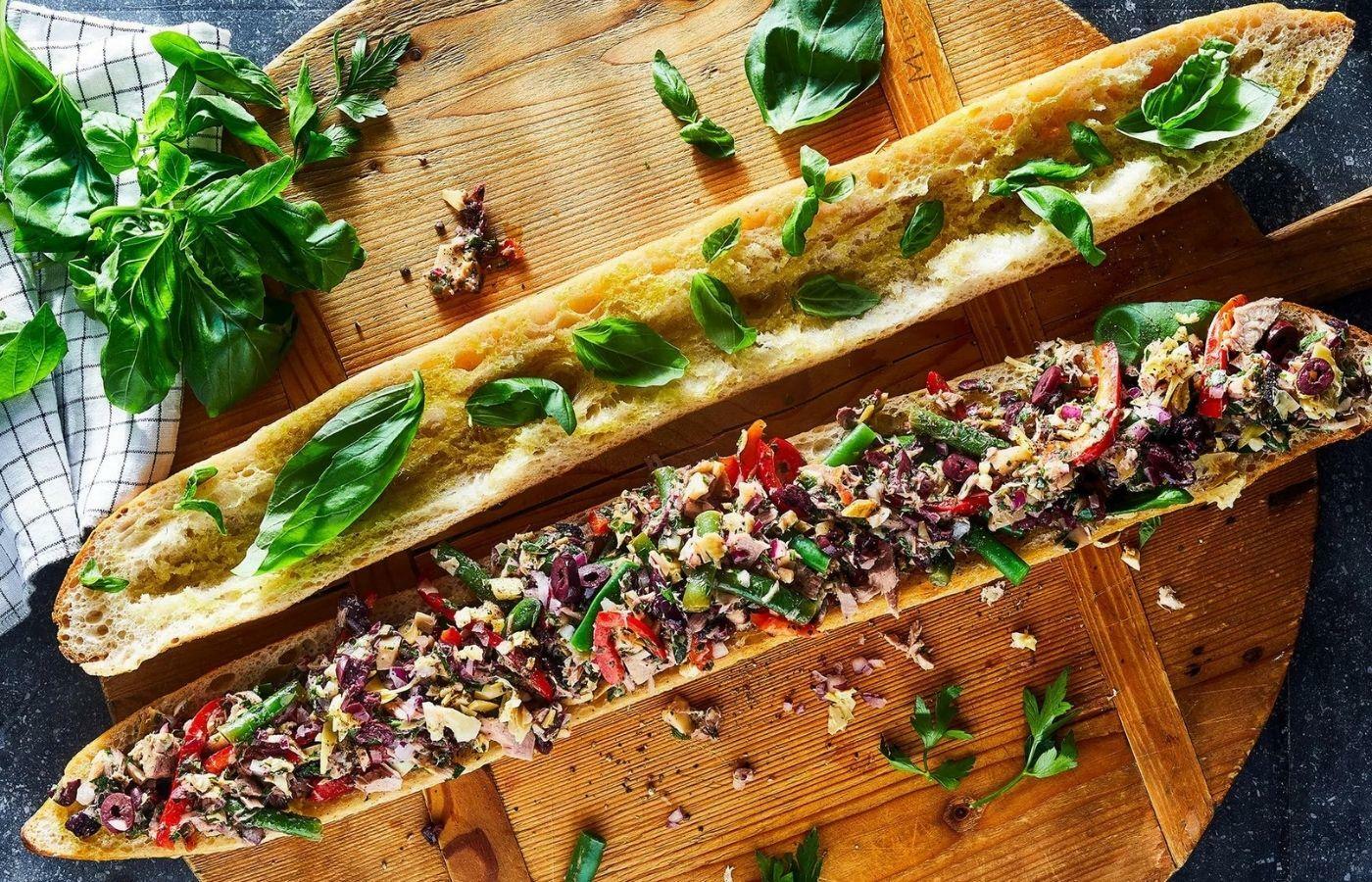 #6. Ratatouille

Where else to try this famous vegetable dish than in its homeland, because Ratatouille was invented in Nice. A thick stew of eggplant, zucchini, peppers, tomatoes, onions and garlic cooked in olive oil will be appreciated by everyone, including vegetarians.

The cost of the dish will be €10-15.


#7. Soupe au pistou

If you're in the mood for a hot soup for lunch, order the Soup au pistou, a flavorful vegetable soup with spices and bacon. Its "highlight" is the sauce used for dressing. Like Pissaladière, which is a local improvisation on the theme of pizza, Pistou is another culinary find of French cuisine that originated in Italy.

It is made with basil grated with garlic and olive oil, and is a lighter version of the well-known pesto sauce, the only difference being that it does not use nuts. A cup of o Pistou will cost you €4-5.


#8. Daube Nioise

After a series of light vegetable dishes and appetizers, you will be delighted with Dob Nicoise, beef stewed in red wine. This simple dish delights the palate with its incredibly rich and subtle flavor, selecting the best cuts of beef and marinating them for three days beforehand. Thanks to this, it has a particular softness, literally melting on the tongue.

Price for the dish: €20-25.


#9. Candied Fruit

If you're staying at a hotel in Nice, fall in love with the city and want to sweeten your trip a bit, try candied fruit. Ripened under the generous sun of southern France, they become even more delicious in the hands of local pastry chefs. Treat yourself to a box of candied peach, apricot, pear and orange slices, and be sure to buy a few packs of this wonderful treat as a gift.

The price ranges from €5 to €30, depending on the quantity.


#10. Tropesienne (La Tarte Tropesienne)

Another local delicacy that will please those with a sweet tooth is Tropezienne. It is a soft bun soaked in syrup, with a creamy cream. Even Brigitte Bardot, who loved it while filming on the Côte d'Azur, could not resist this dessert.

A small bun will cost you about €3 to €5, but it will bring you an immense pleasure.



Learn about the 10 best restaurants in Nice where you can taste the local cuisine, including these wonderful dishes.

In Nice there is something to please gourmets, and this is not the whole list of gastronomic delights of the city. There's so much more to try during your vacation! And you can go to the most appetizing corners of the Côte d'Azur with the Signature Sailing Charter, which will not miss a single local delicacy!


Don't miss the opportunity to take a gastronomic cruise on the Côte d'Azur!

On a Signature Sailing Charter private gastronomic cruise, you will enjoy daily tastings and cooking classes by the best chefs in Monaco, France and Italy. That will make your holiday even more interesting and varied!

Make your vacation even more interesting and diverse. Book it now! Your sea cruise will take place in complete comfort, accompanied by a crew of three.

Signature Concept
Signature Vision

Ask our manager about the Signature Sailing Charter sea gastronomy cruise.

Monaco
Antibes
Cannes
Nice
Portofino
Saint-Jean-Cap-Ferrat
Villefranche-sur-Mer
Lerin Islands
Côte d'Azur