A small resort town in the south of France, Villefranche-sur-Mer is a haven of peace for those dreaming of a quiet holiday on the Côte d'Azur, away from the crowds and bustling life.

We offer you a quick guide to Villefranche-sur-Mer: how to get there and where to stay, what to see in 1 day and where to sunbathe in summer. The most interesting things to do in Villefranche-sur-Mer: fresh photos with beautiful places to see, signature attractions, and beaches.


What is the town famous for?

Surrounded on two sides by Monaco and Nice, Villefranche-sur-Mer lags far behind the major Côte d'Azur resorts in fame, but not in charm or beauty.

It is a popular destination for many celebrities and visitors always include millionaires and billionaires who have "escaped" to Villefranche to immerse themselves in the comfort and tranquillity of the French resort village.

This picturesque setting is a favourite location for the making of commercials, music videos and even scenes from popular films. Once here, you might notice that some of the views seem very familiar. That's because this is where Alfred Hitchcock's To Catch a Thief, The Pearl of the Nile with Michael Douglas, Ronin with Robert De Niro and other popular films were filmed.


What to do in Villefranche-sur-Mer?

A trip to Villefranche by sailing catamaran is a good way to enjoy a relaxing stroll along the Mediterranean coast, a break from the bustle of metropolitan life and just relaxing on the beach or enjoying the local cuisine and beauty of the area.

The city doesn't have an abundance of trendy boutiques or Michelin-starred establishments. But in Villefranche, fresh produce is always available from the market or from the small grocery shop, or enjoy a lingering breakfast on the terrace of the café, or sample the delights of Mediterranean cuisine in the family restaurant.

What's great about Villefranche-sur-Mer is that not only can you bask in the sun and forget all your worries, you can also take a walk through the historic streets of the town with a unique history.


Villefranche-sur-Mer sights in 1 day

A great experience in Villefranche-sur-Mer is to enjoy sunbathing and swimming in the crystal clear waters of the gentle Mediterranean, which can be combined with gourmet meals, boat trips along the coast and evening promenades.

But don't neglect the town's architectural sights, especially as there are not many to see and seeing them won't take up valuable hours.


In the port area is the 14th century chapel of St Peter, painted by the artist Jean Cocteau in the 1950s.
In the centre is the Baroque church of St Michel with the oldest altarpiece on the Côte d'Azur.
Also, of interest is the citadel of Saint-Elm, which houses the town hall, the City Museum with paintings by Picasso, Miró, Repin and Levitan, and the cultural complex.
Beach break on a day trip to Villefranche

The main bathing area in Villefranche-sur-Mer is the central Marinières beach, which stretches 800 m along the bay. Bear in mind that it is quite narrow and there are road and train tracks running along it. People sunbathe right across the road from the cars parked against the stone wall. There's no entertainment besides a boat ride, but there are a few outdoor cafes and fast food stands.

The marina is covered in fine pebbles, which are often mistaken for sand, and has a gentle entrance to the sea. The beach is free of charge but sun loungers and umbrellas are not available for hire, so you will need to bring your own. You will find showers, toilets and cabins for changing clothes.

There are two other beaches in the town: the pebbly Darse, a tiny, unimproved stretch of coastline behind the marina, and Angers Gardien, which starts just outside Marinières.


Cuisine and restaurants in Villefranche-sur-Mer

As well as haute cuisine and seafood outlets, Villefranche-sur-Mer also has some fairly democratic cafes. For instance, at Cofee Ship, the town's coffee shop and burger joint, a complete package (a sandwich plus a salad) and a cup of coffee costs 10-15 EUR. Dinner or lunch at a not-too-expensive restaurant with wine will cost from 35 EUR per person.

Côte d'Azur classics: Nicoise salad, Bouillabaisse fish soup, Topinade cold plate, and Pissalder onion pie. Outside, the Provençal pizza and chickpea fritters are noteworthy. There are plenty of pizzerias (close to the Italian border), cocktail bars and patisseries.


Transport

City bus lines Nos. 80-84 run along Avenida Bella Vista, Napoleon III Boulevard and Corn Dor, and close to the seafront and the beach. A taxi ride from the port to the beach will cost 10-15 EUR on average, although the journey can easily be made on foot in half an hour, following the sea and sightseeing in parallel.

Bicycles can be rented at EcoLoc located on Douan promenade. The two-wheelers are allowed to use the vehicle on the main roads and must abide by the rules as much as car drivers. Cars can be parked at a rate of EUR 2-3 per hour; there is no free parking in the city limits.


Where to stay?

In general, there are not many hotels in the town due to its small size and the price tag is a bit higher than in Nice. The average cost of a double room in a three-star hotel is 100-160 EUR per night.

Apartments are cheaper from 80 EUR. The most budget hotels offer a room for 72 EUR. Most hotels are located closer to the port at the beginning of the Promenade de Mariniere, in the so called "old town" and very close to the beaches.

It is also possible to hire a yacht and live on it (the Signature Sailing Charter booking system also offers such options). Comfortable cabins are available for 1-2 people and the total cost per person is low considering that our catamarans are accompanied by crew and a chef.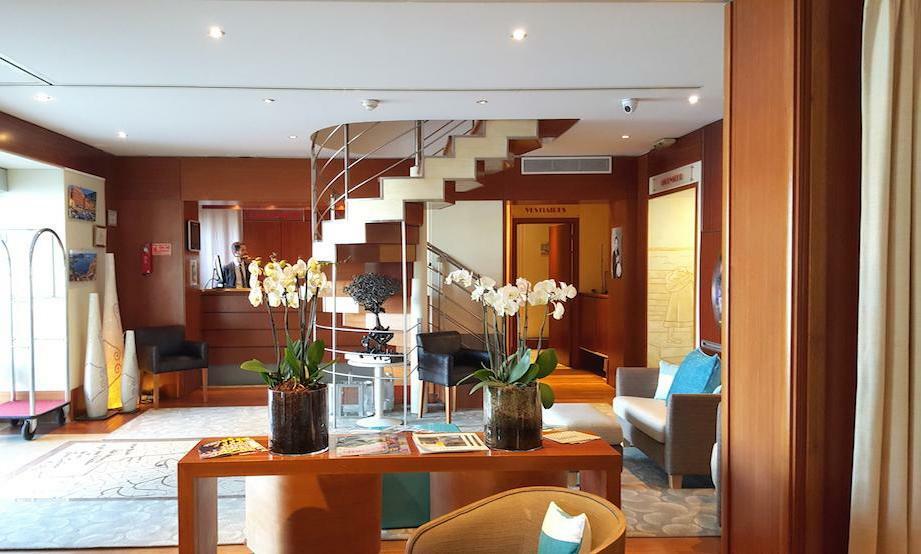 #1. Welcome Hotel Villefranche

Situated in an old building on the seafront (3 Quai Amiral Courbet), this is a hotel with friendly staff and comfortable rooms. It has a balcony overlooking the sea and the harbour, and a yacht-style suite can be booked. There is a diving club for guests, a buffet breakfast and a wine bar offering a wide selection of local drinks.


#2. Hôtel La Fiancée du Pirate

Luxury hotel with its own swimming pool, jacuzzi, parking and terrace where breakfast is served. Located on a hill (8 Bld De La Corne D'or), so guests have wonderful views of the city and the Mediterranean Sea. The attentive staff do their utmost to make guests feel at home.


#3. Hotel La Regence

A budget hotel in the centre of town (2 Avenue Marechal Foch): five minutes from the main beach, shops, markets and cafés. There is a bar with a terrace on the ground floor, parking and a continental breakfast in the morning. The hotel is renowned for its extremely friendly owners and staff and for its spacious and bright rooms with all amenities.

The sea, the secluded beaches, the quaint little streets and the friendly locals make it impossible not to be drawn into this small resort town. Once in Villefranche-sur-Mer, you want to return here again and again...


How do I get from Nice to Villefranche-sur-Mer?

One of the most convenient and scenic ways to get from Nice to Villefranche-sur-Mer is by boat. The Signature Sailing Charter offers a comfortable day trip to Villefranche sur Mer along the Cote d'Azur. Enjoy stunning coastal views, book a boat trip on one of our newest sailing catamarans.

The Signature Sailing Charter catamaran offers boat trips to Villefranche-sur-Mer, not only from Nice, but also from Cannes and Monaco.


You can book a boat trip to Villefranche-sur-Mer for 1 day or more:
It can be a 1-day itinerary around the resort town;
A 2-day itinerary for a weekend or at a time of your choice with an overnight stay on a catamaran;
You can also choose an itinerary of 3 or more days for a boat trip on the Côte d'Azur with a visit to Villefranche-sur-Mer for 1 day.

Signature Sailing Charter offer a full range of services to organise your holiday on the Côte d'Azur!



Book it now and travel later! Your sea cruise will be in complete comfort, accompanied by a crew of three: a captain, a chef and a stewardess.

Signature Concept for 8 guests with comfortable cabins;
Signature Vision for 10 guests with comfortable cabins.

Read more about the boat trip from Nice to Villefranche-sur-Mer.


Take advantage of our hot offer in May and June

A boat trip to Villefranche-sur-Mer for 1, 2 or more days with a discount of 5 to 10%. Find out more at the link.

Our service offers convenient dining options: either on board a sailing catamaran or on the shore in a restaurant recommended by us. Ask our manager about Villefranche-sur-Mer sea cruises organised by Signature Sailing Charter.

We wish you a fabulous holiday!

Monaco
Antibes
Cannes
Nice
Portofino
Saint-Jean-Cap-Ferrat
Villefranche-sur-Mer
Lerin Islands
Côte d'Azur