The beaches of Saint-Jean-Cap-Ferrat offer a tranquil and serene holiday. They are located in secluded areas around the perimeter of the peninsula and are renowned for their variety of panoramic views of the vast expanse of sea. A visit to Cap Ferrat overlooks the bay of Beaulieu-sur-Mer, the cliffs of the Eze and the famous Villefranche-sur-Mer raid. Here you can stroll along beautiful paths, relax in cosy, picturesque coves or on large flat rocks.


Top 5 beaches in Cap-Ferrat:
Paloma Beach
Passable Beach
Cros del Pin Beach
Les Fosses Beach
Les Fossettes Beach

Your family trip to these beaches in Cap-Ferrat is sure to be a comfortable one. All five beaches on the peninsula are open to all (two beaches have private areas) and are equipped with showers and toilets, which are functioning during summer.


#1. Paloma Beach

Surrounded by lush vegetation, Paloma Beach is the real gem of Saint-Jean-Cap-Ferrat! This place is considered an iconic spot. Celebrities from all over the world love stopping here.

It faces east and boasts spectacular views of the steep rocky coastline of Beaulieu-sur-Mer and Eze. Paloma beach is highly prized for its unique location. It is also the starting point for the popular Cape St Hospice walking trail.

The beach has a private area, Paloma Beach. This is the iconic beach of Saint-Jean-Cap-Ferrat, created in 1948 and designed by architect André Desperies. In the beginning it was frequented by Nice residents and some holidaymakers from America who appreciated this paradise. It also welcomed celebrities such as Henri Matisse, Jean Cocteau, Winston Churchill, Roger Moore, Sean Connery, Elton John, Tom Cruise and others.

The nearest restaurant, specialising in Mediterranean cuisine, is open from Catholic Easter until the end of September at lunchtime and in the evenings. Private events can also be held.


Paloma Beach features:
This is a private equipped beach with a restaurant
Unique setting
Picturesque vegetation
The beach is pebbly
This is the origin of the Cape St. Hospice trail.

The entrance to Paloma Beach is formed by steep, high stairs, so is not really suitable for holidays with small children who require prams.


There are facilities for visitors to Paloma Beach:
Shower
Changing rooms
Large towels
Sun loungers
Beach umbrellas
Bar
Restaurant.
#2. Passable Beach with stunning views of Villefranche-sur-Mer

Passable is an equipped beach at the western end of the peninsula with stunning views of the Bay of Villefranche. Passable is on the western end of the peninsula and is ideal for sunbathing. There is also a private area (Plage de Passable).

Signature Sailing Charter organizes day sailings of Villefranche. You can book a place on one of our sailing catamarans to visit this pretty little town. The beach was formerly called Lutetia and was reserved for guests of the Grand Hôtel, built on the peninsula of Cap-Ferrat in 1908.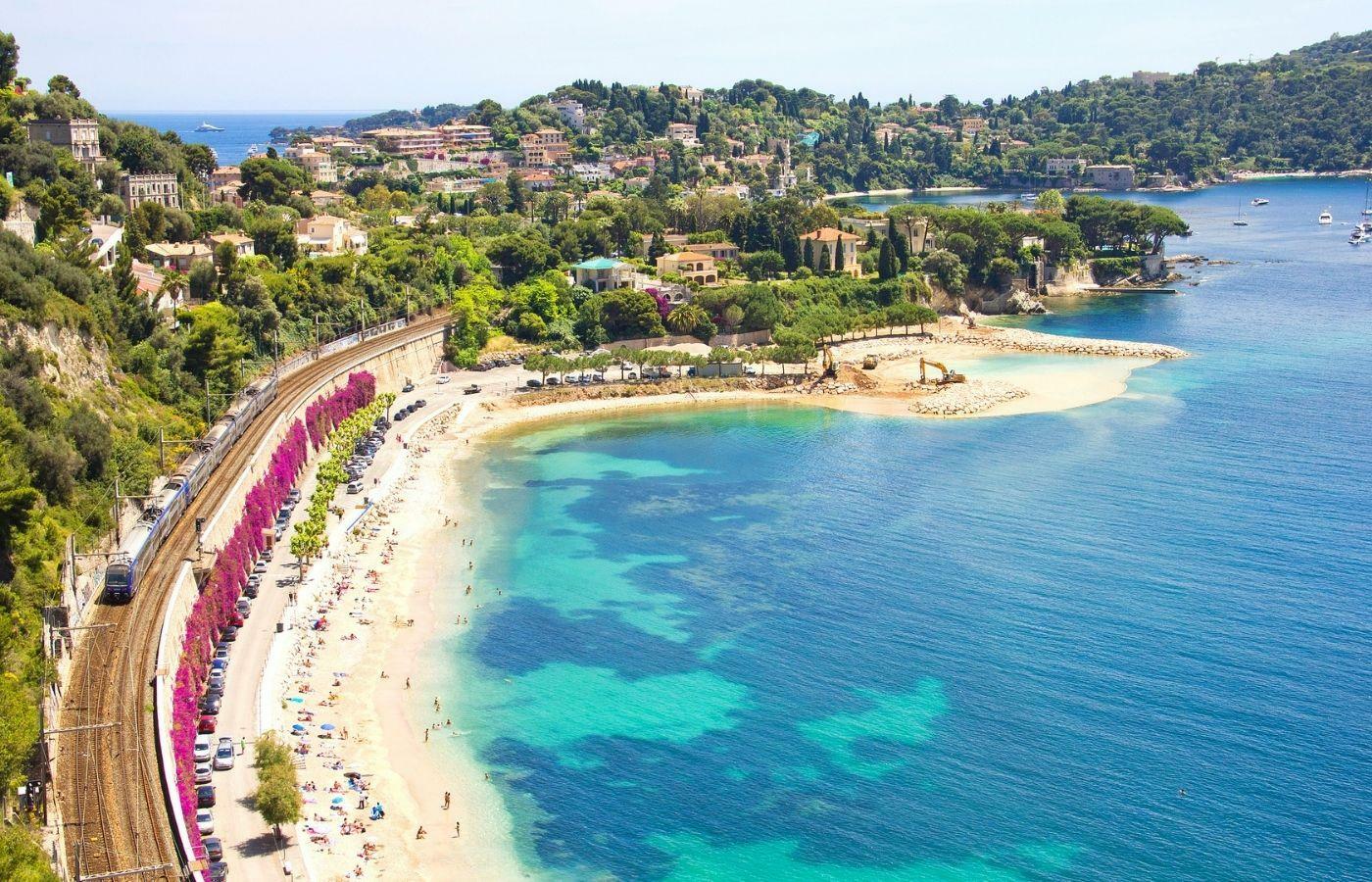 Features of Passable beach:
Equipped beach with restaurant
Easy access to the sea (fine pebbles and sand)
Sun on the beach until late at night
Beautiful panoramic view of Villefranche-sur-Mer and surrounding villas.
The benefits of Passable Beach:
Private events can be held here.
The beach is open from Easter until the end of September.
The chef of the beach restaurant offers gastronomic cuisine with southern colours in the Italian spirit.
Facilities are available to visitors of Passable Beach:
Visitors are offered outdoor and indoor showers
Changing rooms
Large towels
Loungers
Beach umbrellas
Bar
Restaurant
Shop
Massage sessions
Water skiing
Jet skiing
Kayak and other water activities.

Shower, toilet and snack bar on the beach during summer season.


#3. Cros de Pan Beach

Cros de Pan is the very first beach developed on the Cap Ferrat Peninsula. It is located in the eastern part. The history of the beach belongs to the chef writer Somerset Moëm, who got a small house that he rebuilt every year.


Features of Cros de Pan Beach:
This is the only beach at Cap Ferrat with a dog-friendly entry area
The beach is municipal but is equipped with showers and toilets
Individual lockers for safe storage
There is a playground and volleyball court
Emergency service
Jellyfish nets

The biggest beach in Cap Ferrat is located in the town centre and next to the Maurice Rouvier promenade. The entrance to the sea has coarse pebbles. But there is an area close to the yacht club with an easy entrance for children with fine pebbles.


#5. Le Fosset Beach

This beach is undoubtedly the most secluded and tranquil on the peninsula. It is located below the Jardin de la Paix, at the start of Hospice of Cape St. Regular visitors appreciate Le Fosset Beach for its quiet atmosphere and wealth of underwater life. We especially recommend it to snorkelling enthusiasts!


Beach features:
Calm, quiet atmosphere
There is an underwater trail for snorkelling enthusiasts
Shower and toilet available in summer
Situated close to the town centre.
Le Fosset Beach underwater trail

The underwater trail is located at the beginning of Le Fosset Beach. Snorkelling, mask and flippers are required. The marked trail is 200 metres long. At depths of up to three metres, you can see different types of habitat: sandy bottom, rocky bottom and an overgrowth of seaweed posidonia.


Admire the beauty of the underwater world by exploring on your own

This will be an enjoyable and original boat ride! The Underwater Trail was conceived not only to attract the attention of holidaymakers but also as an interesting educational experience to get to know the richness of the marine environment. Underwater information boards have been installed at numbered buoys which are accessible to children and adults.

The underwater trail operates during summer. The rest of the time, it is the responsibility of the campers (users).


Private beaches and swimming pools for a family weekend trip
1. Club Dauphin

A few steps from the lighthouse of the Cap-Ferrat peninsula in a beautiful park, you will find the Club Dauphin at the Grand-Hôtel of Cap-Ferrat. It is accessible by a private, air-conditioned funicular railway.

Relax and unwind on the terrace of the Olympic heated seawater pool in a tranquil and relaxing atmosphere. For those wishing to spend the day in complete privacy and absolute peace, there are private white beachside tents with food and beverage service.


2. La Voile d'Or Beach

La Voile d'Or Beach is in a secluded, almost unexpected spot, hidden from view (60 sun loungers and parasols are set by the water itself). There is a restaurant and bar by the water, as well as a seawater pool overlooking the port and the Mediterranean Sea. La Voile d'Or Beach is accessible by appointment only.


Open from: 19 May to 23 September from 9:30 to 18:00
Price per day: €40 per sun-bed (mattress) including towel and umbrella.
3. Swimming Pool of Club Hotel Delcloy

The freshwater pool is open to non-hotel guests, subject to the payment of a meal (buffet of snacks and desserts, second course).


Admission fee for adults: €40
Admission fee for children under the age of 12: €25.
How to get to the beaches of Cap-Ferrat?

Complete your beach holiday with an exciting sea voyage on a sailing catamaran for 1, 2 or more days! Signature Sailing Charter offers a balanced and well organised voyage with crew. A full service for your holiday on the Côte d'Azur, in particular Saint-Jean-Cap-Ferrat with visits to the best beaches on the peninsula.

Book a scenic сatamaran cruise to Saint-Jean-Cap-Ferrat

Signature Sailing Charter offers boat trips to Cap Ferrat, not only from Monaco, but also from Nice and Cannes. You can book a boat trip to Saint-Jean-Cap-Ferrat online on website:


It could be a 1-day itinerary to the resort town;
A 2-day itinerary for a weekend or at a time of your choice with an overnight stay on a catamaran;
You can also choose an itinerary of 3 or more days for a boat trip to the Côte d'Azur with a visit to Saint-Jean-Cap-Ferrat for 1 day.

Signature Sailing Charter offer a full range of services to organise your holiday on the Côte d'Azur!

Book it now and travel later! Your sea cruise will be in complete comfort, accompanied by a crew of three: a captain, a chef and a stewardess.

Signature Concept for 8 guests with comfortable cabins;
Signature Vision for 10 guests with comfortable cabins.


Take advantage of our hot offer:

A boat trip to Saint-Jean-Cap-Ferrat for 1, 2 or more days with a discount of 5 to 10%. Find out more at the link.

Our service offers convenient dining options: either on board a sailing catamaran or on the shore in a restaurant recommended by us. Ask our manager about sea cruises organised by Signature Sailing Charter.

We wish you a fabulous holiday!

Monaco
Antibes
Cannes
Nice
Portofino
Saint-Jean-Cap-Ferrat
Villefranche-sur-Mer
Lerin Islands
Côte d'Azur