Extraordinary gifts are always memorable. February 14 is usually associated with flowers, boxes of chocolates in the shape of hearts and other cute presents. However, they are given to everyone, and gradually they become an indispensable attribute of Valentine's Day.

The only way to make a serious declaration of love is with a truly beautiful gesture: take your beloved on a romantic boat trip in Mediterranean Sea. An exquisite candlelit dinner and an incredibly beautiful sunset will create the right atmosphere for a declaration of love or a marriage proposal.


Why not celebrate Valentine's Day in the Mediterranean?

For most people on the planet, this day is special. For young couples, this holiday has a deep meaning. They want true romance and a bright emotion.

Valentine's Day on a sailboat: this is a great chance for lovers to spend time in an unforgettably romantic setting. If you manage to catch a fair wind, you can go sailing. At those moments, all worries fade away, and two lovers feel as if they are alone in the world.

The setting sun, with its rays casting a glare onto the surface of the sea, makes for an even more exciting ride in the evening. Nature itself will provide a romantic atmosphere and a lot of pleasant experiences.


A Mediterranean cruise on Valentine's Day will give you beautiful photos

Experience a lifetime of unforgettable memories on a cruise that will turn a new page in your life.


Romantic dinner on a boat or by the sea

A romantic evening is the perfect follow-up to your Valentine's Day celebrations. We have an exquisite menu with the most delicious dishes, fresh fruit, a wide selection of champagne and wines. We will also recommend the best restaurant on the shore where you can reserve a table for a romantic dinner.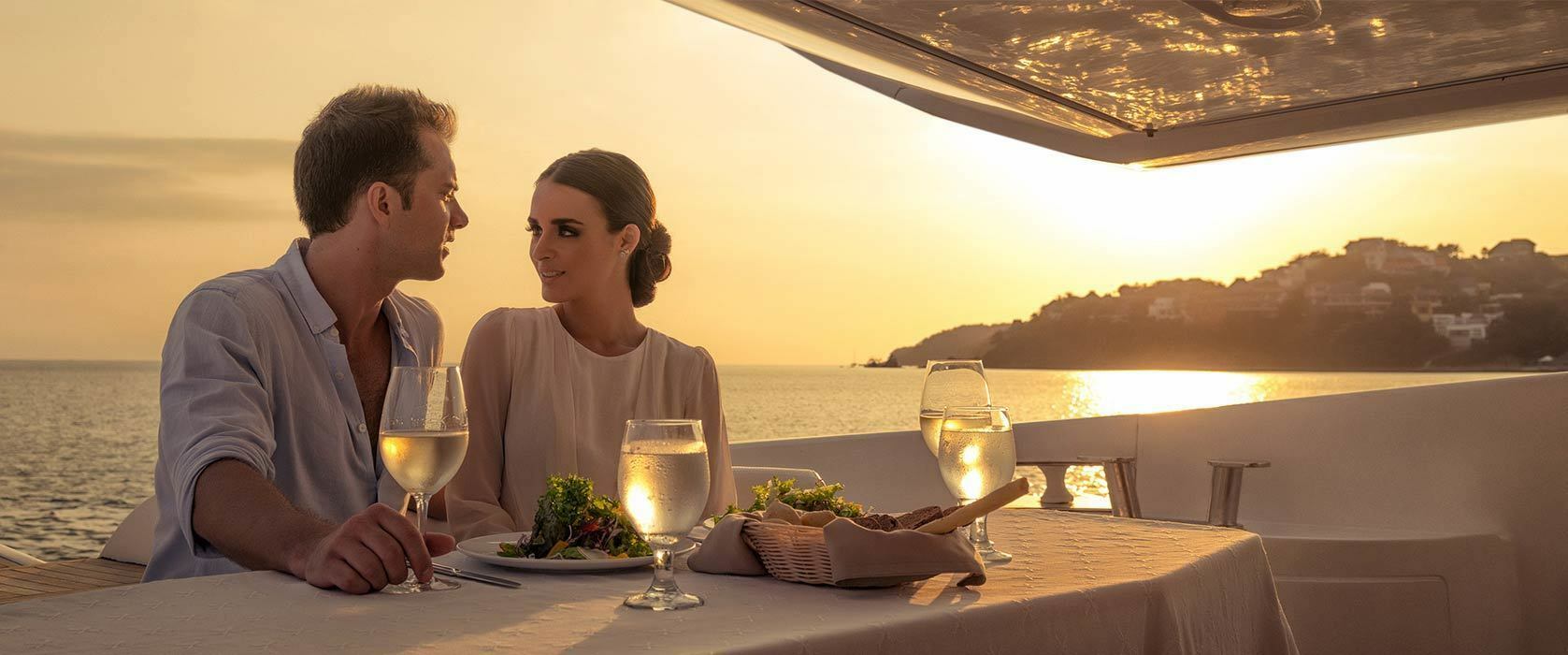 Yacht Masterclass

What man wouldn't want to feel like a ship captain? This magical holiday makes all dreams come true.



Optional decorations can be ordered for the boat or the cabin. If you wish, you can order a bouquet of beautiful flowers designed by our best florists and wait for you on board your sailboat. A romantic trip on a sailing catamaran will be the most exquisite and desirable gift for Valentine's Day, which will be remembered for a lifetime!

We offer our guests an unforgettable day out on a catamaran sailing trip around the Mediterranean Sea along scenic sea routes from the French Riviera to Greece.



Choose from spectacular locations such as the French Riviera, Cannes, Antibes, Monaco, Saint Tropez, Porquerolles, Nice, Corsica, Italian Riviera, Portofino, Naples, Capri, Sicily, Sardinia, Crete, Rhodos, Kos or Dodecanese. Choose a romantic journey on one of our impressive sailing catamarans:


Make February 14 the happiest day of your life by giving your sweetheart a real fairy tale!

To book a sailboat for February 14th please leave your request online. Our manager will contact you to help you choose a boat and an itinerary. We guarantee a personalised approach to each guest, a high quality service and affordable price.


Book a scenic catamaran cruise in Azure Coast

Signature Sailing Charter offers boat trips to Azure Coast, not only from Azure Coast. You can book a boat trip on this website:


It could be a 1-day itinerary to the resort town;
A 2-day itinerary for a weekend or at a time of your choice with an overnight stay on a catamaran;
You can also choose an itinerary of 3 or more days for a boat trip to the Azure Coast.

Signature Sailing Charter offer a full range of services to organise your holiday on the Côte d'Azur!

Book it now and travel later! Your sea cruise will be in complete comfort, accompanied by a crew of three: a captain, a chef and a stewardess.

Signature Concept for 8 guests with comfortable cabins;
Signature Vision for 10 guests with comfortable cabins.


Take advantage of our Special Offer:

A boat trip to Azure Coast for 1, 2 or more days with a discount of 5 to 10%. Find out more at the link.

Our service offers convenient dining options: either on board a sailing catamaran or on the shore in a restaurant recommended by us. Ask our manager about sea cruises organised by Signature Sailing Charter.

We wish you a fabulous holiday!

Monaco
Antibes
Cannes
Nice
Portofino
Saint-Jean-Cap-Ferrat
Villefranche-sur-Mer
Lerin Islands
Côte d'Azur