"Why do you recommend sailing a catamaran rather than a sailboat around the Mediterranean Sea?". We sometimes hear this question from our new guests who have never been on one of our amazing cruises. We also know for sure that there are at least 5 reasons why our regular guests love catamaran cruises!


#1. Travelling on a catamaran involves comfort and luxury, and you get them at a very affordable price

What's the difference between a sailing boat and a sailing catamaran?

A sailing boat is more suitable for those who want to learn how to sail, while a catamaran is for those who are looking for a very comfortable holiday at sea. Below we've listed some advantages and disadvantages to help you decide.

Sailing boat VS sailing catamaran:

Sailing boat: ideal for sailing, less comfortable, less spacious, more authentic.

Sailing catamaran: less of a sliding sensation to avoid seasickness, more comfortable, more spacious, ideal for long journeys.

A sailing catamaran is more stable than a sailboat, so they are a great way for novice sailors to discover the magic of sailing.


#2. Travelling on a sailing catamaran is the comfort of home on the water!

A sailing catamaran is a true houseboat:


Comfortable
Spacious
Bright and
Very well-equipped.

Sailing Catamarans are true houseboats with all the comforts you need on board. After a long day of adventure, you can relax in their well-appointed cabins and unwind in one of the comfortable double beds. They are usually located in hulls (2 cabins per hull) and are separated by a bathroom (shower and WC).



The common areas of the catamaran (living room and kitchen) are located on top of the boat (between the two hulls). They are therefore very spacious and bright, with large windows overlooking the street, so you can relax with a view of the sea.

The catamaran is always very cozy because the lounge area is located in the middle of the boat. It is well-equipped (oven, cookers, fridge, etc.), so the chef can prepare restaurant meals for lunch or dinner.

Finally, it's obviously the deck that gives the catamaran all its charm: you can dine in the stern while enjoying the sea breeze, or take a nap on the sofas at the front. Your journey on a catamaran will be mostly on the outside of the boat.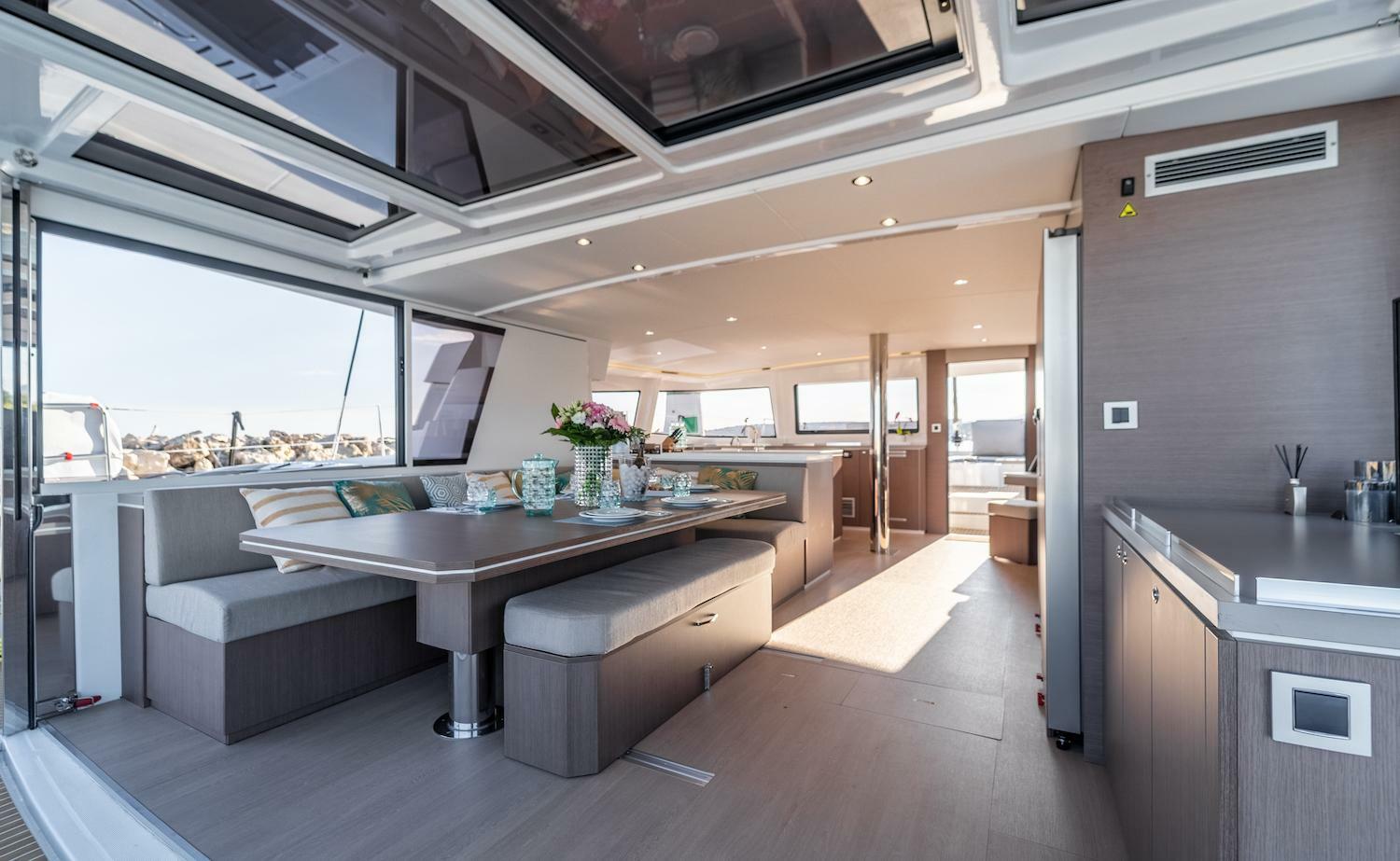 #3. The perfect kind of trip for families with kids

There's space, a good atmosphere and more security than on a sailboat. A new way to discover paradisiacal islands and beaches accessible only by boat: the catamaran has a shallow draft, allowing it to pass where other vessels require greater depth.


The opportunity to read a book or take a nap on the catamaran net is the best in the world.
A catamaran is more stable than a sailing boat. So it's a great way to discover the magic of sailing for the first time without the fear of getting seasick!
A catamaran usually has 4 large cabins, allowing you to sail as a family or with your best friends without stepping on each other's toes.
#4. Benefits of cruising on a catamaran with a skipper

If you already have a group of travellers (your family or friends), we highly recommend renting a catamaran with a skipper, which will give you many advantages. In most cases, you will get a discount, especially if you book in advance and during low season.

Besides lower prices, renting a catamaran with a skipper also allows you to customise the route of your trip with a skipper, with complete freedom and maximum flexibility during your trip. And, of course, you'll have a lot more privacy if you're with family or friends.

If you're travelling alone or as a couple, you can book a seat on board or an entire cabin for yourself to provide even more privacy. You'll share the experience and life on board with other like-minded people: a great opportunity to meet new people and make new friends!


#5. On a sailing catamaran you will be accompanied by a crew for your comfort

At least Signature Sailing catamarans arrange sailing cruises with a crew. A sailing catamaran charter with crew from Signature Sailing combines the comfort of a luxury holiday with the spirit of adventure travel.

On board the catamaran, you will enjoy the sailing skills and local knowledge of our captain and the chef will surprise you with delicious personalized meals.

Our stewardess will serve food, drink and tidy up, helping you feel comfortable throughout your journey.

Choose from over 15 incredible Mediterranean cruise destinations on Signature Sailing Catamarans: French Riviera, Cannes, Antibes, Monaco, Saint-Tropez, Porquerolles, Nice, Corsica, Italian Riviera, Portofino, Naples, Capri, Sicily, Sardinia, Crete, Rhodes, Kos, Dodecanese.

Monaco
Antibes
Cannes
Nice
Portofino
Saint-Jean-Cap-Ferrat
Villefranche-sur-Mer
Lerin Islands
Côte d'Azur